Charlotte Museum Of History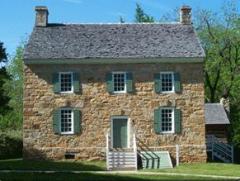 This site includes a regional history museum displaying artifacts from Charlotte, North Carolina, and the oldest house in Mecklenburg County, the 1774 Hezekiah Alexander Homesite.
The Charlotte Museum of History and Hezekiah Alexander Homesite comprise multiple venues on an eight-acre wooded campus in east Charlotte.
The oldest structure, and the reason for the museum's location, is the Hezekiah Alexander Homesite, a 5,000- square foot rock house. The Hezekiah Alexander House is the oldest surviving house in Mecklenburg County. Listed on the National Register for Historic Places, it was built circa 1774 and still stands on its original site. The house is accompanied by a reproduction log kitchen and reconstructed two-story springhouse.
An intensive exhibits program had produced three galleries taking the Charlotte-Mecklenburg story from 18th to the 20th century. A changing exhibit space was created on the second floor. Grand Opening was held on October 24, 1999.