Clemenceau Heritage Museum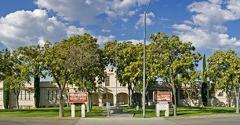 In addition to photographs, artwork and other printed material, the museum houses a permanent collection of historic artifacts.
The Camp Verde Historical Society is an all-volunteer, non-profit organization. Although it is primarily dedicated to the restoration, preservation, reconstruction, and administration of buildings and sites of historical significance in the Camp Verde area, the society houses archival materials going back to the 1860s and maintains a research library.