Cow Neck Peninsula Historical Society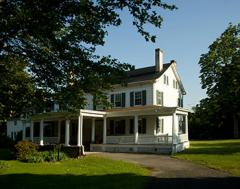 The society maintains the Sands-Willets House, part of which dates from the early 1700s, as a museum and educational center. The House is typical of the Long Island farmhouses that grew to fit the need of the families who lived in them.
The Sands-Willets House is located in the Incorporated Village of Flower Hill, in the Town of North Hempstead, Nassau County, on a peninsula known in earlier times as 'Cow Neck'. That area roughly encompasses the Port Washington School District and parts of Manhasset and Roslyn.
The Sands-Willets House has 18 rooms, 11 of which are furnished and open to the public. The oldest portion of the house, the Colonial Kitchen, is believed to have been built by the Sands family around 1735. The Sands family were among the original settlers of nearby Sands Point. Seven members of this family served in the American Revolution. The property was purchased by Edmund Willets, a prominent Quaker and abolitionist, in 1845. He added the Greek-revival style addition to the house. The society bought the Sands-Willets House from Miss Eliza Willets in 1967 and has since restored and renovated it.