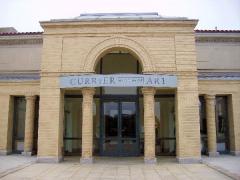 The Currier Museum of Art is committed to providing stimulating, diverse, and enjoyable encounters with original works of art and, in doing so, hopes to inspire the hearts, minds and imagination of its members and visitors. The museum provides the public with opportunities to learn about the past, appreciate and evaluate the present, and contemplate the future.
The Currier brings to its fundamental mission exceptional holdings of art and architecture, primarily American and European. The museum is dedicated to high standards of exhibition, preservation, research, interpretation and enhancement of this collection. Cultural and educational programs of high quality and often national significance are offered.

The museum also offers tours of the Frank Lloyd Wright-designed Zimmerman House -- reservations required. The Currier Museum Art Center offers studio workshops and classes for children and adults.