Dillard Mill State Historic Site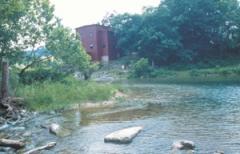 Dillard Mill sits along Huzzah Creek and was the second mill built at that site. The first, Wisdom's Mill, built in the 1850s, was destroyed by fire in 1895. Innovations in the new, modernized mill included steel roller mills for grinding the wheat and a turbine to power the mill. For years, farmers brought their grain to the mill to be ground into flour and eventually livestock feed. The mill ceased operation in 1956.
Today, most of the original machinery is still intact and operational. A turn of a wheel brings the machinery back to life during tours of the mill, which are given year-round. Groups should contact the site in advance.
Picnic sites provide a peaceful, scenic setting to enjoy lunch. Visitors can also wade across the creek to a 1.5-mile hiking trail that winds through an oak-hickory forest.