Dorothy Page Museum & Historic Town Site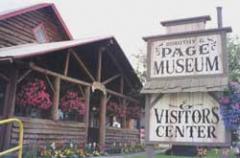 A 1930s community hall now houses the town of Wasilla's first history museum.
The building that is now the Dorothy Page Museum was built in 1931 as a community hall. It became the center for social functions, including dances, political meetings and basketball games. It served this important function for over 30 years before the structure began to deteriorate in the 1960's.
The building was repaired and founded as Wasilla's first museum in 1967. It became the first museum in the City of Wasilla. Since then, it has preserved and shared a growing collection of treasures with the people of Wasilla and the Matanuska-Susitna Borough. Today, the Museum continues to educate and inspire through exhibitions, programs and lectures, while preserving an expansive collection representing the most comprehensive assemblage of Wasilla artifacts in the region.
A major pioneer in the city's preservation movement, the museum also owns Wasilla's first school, located in the Historic Town Site. The school and museum buildings are National Historic Landmarks, reflecting the architectural and social histories of early Wasilla pioneers.