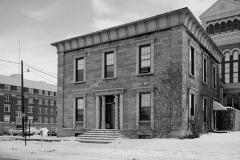 Rague's architectural style is a fine example of Egyptian Revival architecture, fittingly built on the banks of the "Nile River" of America.
Total cost of Jail and Grounds were $45,000
The Dubuque County Jail is considered the most significant building in Iowa because of its rarity. Less then 50 Egyptian Revival structures were ever built in the United States, and the County Jail is one of only three remaining.