Felix Valle House State Historic Site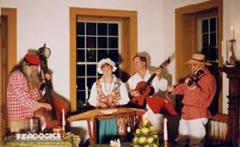 Settled by French-Canadian habitants in the late 1740s, the village of Ste. Genevieve has been inviting visitors to enjoy the charm of its narrow streets, shops, museums and historic homes for decades. Located amid Ste. Genevieve's National Historic Landmark District, the Felix Valle House State Historic Site offers visitors a rare glimpse of Missouri's French colonial past.
Just across the street is the Dr. Benjamin Shaw House. The earliest portion of this white frame building was constructed in 1819 by Jean Baptiste Bossier as a storehouse for his mercantile business. Today, the house provides interpretive space for the site.
Facing le grand champ, the agricultural fields of colonial Ste. Genevieve, is the 1792 Bauvais-Amoureux House. The walls of the house were formed from hewn logs, set upright into an earthen trench in a style known as poteaux en terre, making it a rare architectural treasure. An impressive diorama of Ste. Genevieve in 1832 is displayed in the house.