Fort Plain Museum & Historical Park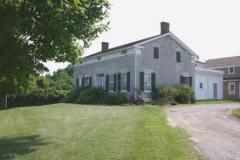 A significant fort during the Revolutionary War, Fort Plain in the Mohawk Valley exists today to preserve the history of local Native American communities and Revolutionary war heroes.
The Fort Plain Museum & Historical Park, located in the center of the Mohawk Valley, represents four distinct periods in the valleys history: prehistoric Native American, late Mohawk Indian, Revolutionary War and 1820-1850 Erie Canal and rural farm life. The museum was founded in April 1963 to protect and exhibit its collections of historical artifacts and the historic sites on the property.