Gov. Jonathan Trumbull House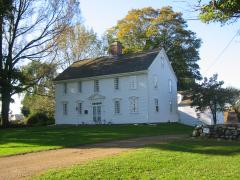 Governor Jonathan Trumbull's house is unusual in having the only central chimney with a central hall in the state of Connecticut. It was extensively remodeled by the Governor when he inherited it from his father in 1755.
What had been a smaller house was considerably enlarged, and the molded pediment window cornices and the classical doorway, typical of this period, were also added.
Generals Washington, Lafayette and Rochambeau were among many distinguished visitors. The house was moved a short distance north of its original sige in 1824.