Hearthstone Historic House Museum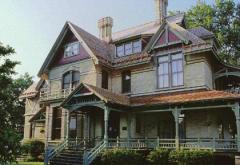 On September 30, 1882 Hearthstone Historic House, built for Appleton businessman Henry J. Rogers and family, became the first private home in the world to be lighted by a centrally located hydroelectric station using the newly invented Thomas A. Edison system. Rogers powered his house using the Vulcan Street Plant which powered is paper mill by harnessing the power of the Fox River with a water wheel.
On a tour today you can still see original electroliers and light switches in use and learn about the effect electric light had on society. Many fine details add to the beauty of this historic home, including intricate woodwork, stunning fireplaces and exquisite stained glass windows. Decorated in a late 19th Century style with antique furniture and Victorian decorative arts Hearthstone welcomes guests to tour the past and visit an exciting era in American history.
In the Hydro-Adventure center in the basement of the museum, visitors can ride a high-wheel bike, generate electricity for Appleton and watch a video that tells how people in 1882 reacted to this amazing home.