Heritage Farmstead & Learning Center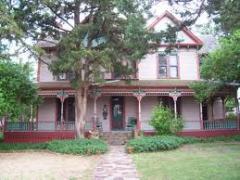 A variety of living history sites including a log cabin and a blacksmith shop recreate the colonial life of Iredell County.
Visitors to Heritage Farmstead events can experience life as it was lived in the early days of Iredell County. The site includes a two-story log house, one-room cabin, smoke house, corn crib, blacksmith shop, privy, hearth and kitchen garden along with an adjacent one-room schoolhouse.
The Heritage Learning Center is housed in the Old Pumphouse Station across from the Farmstead. Directly across from the Heritage Farmstead, visitors can hike the Nature Trail year round. The Nature Trail encompasses a native ridge trail, wooden boardwalk around a natural bog and what may be the last remaining wildflower site in the city. Visitors are asked to leave flowers and plants undisturbed for others to enjoy.