Hollywood Historical Society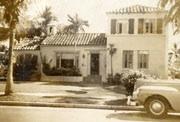 The Historical Society has over 18,000 items in its collection covering Hollywood's history over the entire 20th century, including a library of the Hollywood Sun Tattler newspaper, photos, maps, pamphlets, and the like. Researchers and others interested in Hollywood's history are welcome to contact the Research Center, or visit, by appointment.
Clarence and Vera Hammerstein promoted tourism. Clarence was a pioneer in the interaction of the citrus industry between Florida and California. As a result, agricultural experts developed the Citrus Manual that is the standard reference guide for horticultural and citrus students. The house is open to the public from 1 to 4 p.m. on the first Sunday of every month. Docents will lead visitors through the 1935 house, designed by noted Hollywood architect, Bayard Lukens. The Hammerstein house is the headquarters of the Hollywood Historical Society.