Honey Springs Battlefield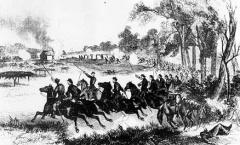 More than two years earlier the United States government had withdrawn its small peace-keeping forces from the forts of Indian Territory for what it considered more urgent military needs in the East. Soon afterward, authorities of the Confederate States signed treaties of alliance with the Five Civilized Tribes, and for a year Confederate control of Indian Territory remained unchallenged. Then, as part of an overall plan for conquering the Confederacy, Federal forces invaded Indian Territory.
After a year of unsuccessful efforts to reestablish Federal authority, Colonel William A. Phillips of Kansas occupied Fort Gibson in April of 1863, and Confederate authority in Indian Territory was successfully challenged for the first time.
The Honey Springs settlement completely disappeared with the construction of the Missouri, Kansas, and Texas Railroad soon after the Civil War. The Texas Road was closed with the coming of U.S. Highway 69 in the 1920s. But clear-flowing Honey Springs can still be seen about one and one-half miles east and north of Rentiesville, in McIntosh County. Today the Honey Springs battle site of nearly 3,000 acres is still wooded and rural, much as it was at the time of the engagement between the North and the South.