Indiana County Historical Museum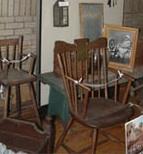 The museum has both changing and permanent exhibits including one's detailing Indiana County's history of coal mining, farm life, the Native Americans of the area, and medical instruments of days gone bye. The story of Indiana County is told by artifacts and memorabilia that illuminate the past and enlighten the present.
Permanent displays and a variety of changing exhibits explain how this community grew and what its people have done. Permanent exhibits include coal mining; farm and home; Native Americans; and an old doctor's office and medical instruments display. Temporary displays include art shows, seasonal decorations and cooperative exhibits with other community groups.