Joseph Smith Memorial Birthplace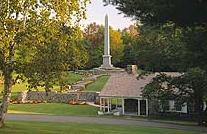 Born in Sharon, Vermont, on 23 December 1805, Joseph Smith Jr. was destined for a life of greatness and hardship. As a young boy, he received a vision of God the Father and Jesus Christ. That event changed his life and the lives of millions of others. As a result of that experience, Joseph Smith was given other divine communications. He also received an ancient record and was commanded to translate it. The translation of that record is now called the Book of Mormon: Another Testament of Jesus Christ. Joseph was called as a prophet and was instrumental in the restoration of priesthood authority and the organization of The Church of Jesus Christ of Latter-day Saints. From the time of his first vision, Joseph was persecuted for his beliefs. At age 38, Joseph Smith gave his life for the cause he believed in.
In memory of this great prophet, a granite monument was dedicated on the 100th anniversary of his birth. The shaft was sculpted from a single granite block quarried in Barre, Vermont, and is one of the largest polished shafts in the world. It stands 38 1/2 feet tall, one foot for every year of the Prophet Joseph Smith's life. The shaft weighs 40 tons. A visitors' center is also located on the site and provides further information on the life of this exceptional man.