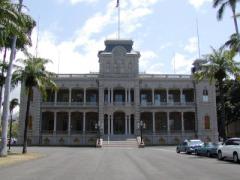 Built by King Kamehameha V in 1874, the Judiciary History Center features exhibits and multimedia presentations on Hawai'i's legal history and landmark court cases.
Founded to help the public understand Hawaii's unique legal history and the development of Hawaii's judicial system, the Center primarily promotes law-related education activities for students, teachers, and the general public.
The Center has been located in the beautiful and historic Ali`iolani Hale home of Hawaii's Supreme Court since 1874. Part of the Hawaii State Judiciary, the Center conducts and encourages research, disseminates information, and collects, preserves and displays materials. Interpreting over 200 years of dynamic legal history through audio visual presentations, exhibitions, and public programs, the Center serves as a bridge between the Judiciary and the community.