Lakewood Historical Society & Museum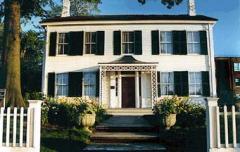 The Lakewood Historical Society has been in existence since 1952. The impetus for its formation was the fact that the old stone house at St. Charles and Detroit had to be moved or razed for the expansion of Babin Furs. This house was built in 1838, and the last of its type in Lakewood. Mr. Stephen Babin agreed to donate the stone house to be used as a museum if it could be moved by October 15, 1952. Margaret Manor Butler, a Lakewood resident, was very interested in the history of the community and historic preservation. She wrote The Lakewood Story, The Pictorial History of the Western Reserve, and Romance in Lakewood Streets. She also maintained a small history museum in a room at Lincoln School. It is through her efforts that the money was raised to move the stone house and arrange for a permanent site in Lakewood Park. The Oldest Stone House then became the headquarters for the newly formed historical society. Mrs. Butler continued her efforts to raise membership in the Society and support the Oldest Stone House restoration project. From an initial membership of 18 at the organizational meeting in July of 1952, the Lakewood Historical Society now has over 500 members.
The Lakewood Historical Society has continued to flourish and work within the community of Lakewood. The Oldest Stone House Museum is open to the public for guided tours. There is no charge to tour this 1838 home furnished in the typical style of a farm family in the 1830's -1860's. A Junior Women's Board of 35 women conduct the tours and offer many other educational services to the community, including Brownie Scout Doll Tea Parties, classroom reenactment of "pioneer school," special museum tours for community groups and schoolchildren, special displays in our schools and libraries, etc. Our Women's Board has a membership of over 100 and sponsors many successful fundraising projects, including their annual Christmas wreath sale. An active quilting group produces a quilt each year to be raffled, and spends many pleasant hours working on the project during the year. The Herb Society maintains an herb garden on site and has monthly meetings to promote knowledge of herb lore and uses.
The Lakewood Historical Society maintains a photo-file collection of over 8,000 slides and provides a variety of slide presentations for community groups based on this collection. Each summer, in conjunction with the Lakewood Recreation Department, an Ohio Heritage summer program for elementary school children is held. Children spend a week learning how children lived, worked, and played 150 years ago. Our library and collection of paper memorabilia provide information to people who make requests, and the public is welcome to attend our three general meetings each year where programs are presented on subjects related to history and historic preservation.