Lauren Rogers Museum Of Art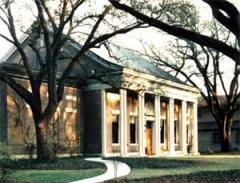 Nestled among century-old oaks in Laurel's charming Historic District is the Lauren Rogers Museum of Art. The Lauren Rogers Museum of Art offers visitors an enjoyable artistic experience in the Museum Galleries, the Museum Library and the Museum Shop.
The Eastman Memorial Foundation initially sought to establish a public library for Laurel and Jones County in the building and decided to add a museum wing after construction had begun. Today, the Lauren Rogers Museum of Art includes an extensive art and local history library with more than 10,000 volumes, but the primary focus of the Museum is its collections.