Little Bighorn Battlefield National Monument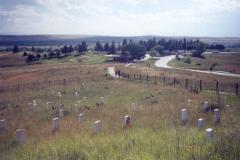 This area memorializes one of the last armed efforts of the Northern Plains Indians to preserve their way of life. Here in 1876, 263 soldiers and attached personnel of the U.S. Army, including Lt. Col. George A. Custer, met death at the hands of several thousand Indian warriors.
The Battle of Little Bighorn—known alternatively as Custer's Last Stand and, to the Indians involved, as the Battle of the Greasy Grass—was a battle between the combined forces of the Lakota, Northern Cheyenne, and Arapaho peoples against the 7th Cavalry of the United States Army on the 25th and 26th of June, 1876 near what is now Crow Agency, Montana. The battle was the most famous action of the Great Sioux War of 1876, and was an overwhelming victory for the Indians, resulting in both the death of George Custer and the annihilation of five of the 7th's companies.
The Battlefield features a walking trail and a memorial to the U.S. 7th Cavalry on Custer's Last Stand Hill, as well as a memorial for the Indians who fought against them. From Memorial Day through August, three daily Park Ranger talks are available at multiple times: "Battle Talk," "The Cavalry Soldier in 1876," and "The Indian Village." Visitors can also take a guided bus tour (at extra charge), and from June through August self-guided walking tours are available to visitors who follow a five mile tour road.