Martin Van Buren National Historic Site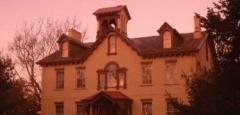 Van Buren was preeminent among the second generation of American politicians. As eighth President – the first born under the U.S. flag – he continued building the Democratic Party he helped organize. His administration faced daunting challenges: The nation suffered a severe and lingering economic depression. Crises with Great Britain, Spain, and the Republic of Texas taxed his diplomatic skills.
Most troubling throughout his political career was the issue of extending slavery into new states. Van Buren opposed extension while still trying to cultivate a coalition of northern and southern interests. The issue divided the nation and his party and foreshadowed the whirlpool of frustration, anger and violence which was to consume the country in the 1860's.
The 36-room mansion, containing original wallpaper and furnishings, has been restored to the Van Buren period. All different kinds of events and activities are offered on the grounds.