Memphis Brooks Museum Of Art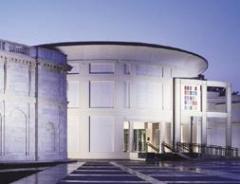 Located in the heart of Memphis, the Memphis Brooks Museum of Art, is a dynamic cultural complex consisting of: 29 galleries, art classrooms, a print study room with over 4,500 works of art on paper, a research library with over 5,000 volumes, and an auditorium. Housed in part in the original Beaux-arts style building, a registered U.S. National Landmark, the Brooks' facilities also include the Brooks Museum Store, the acclaimed Brushmark Restaurant, the Holly Court garden, and a grand terrace that overlooks the greens and trees of Memphis' Overton Park.
The Memphis Brooks Museum of Art enriches the lives of the diverse community through the Museum's expanding collection, varied exhibitions, and dynamic programs that reflect the art of world cultures from antiquity to present.