Middlesex County Historical Society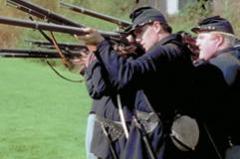 The Historical Society is headquartered at General Mansfield House, one of the few residential structures still standing on Middletown's Main Street . Once the home of General Joseph K.F. Mansfield, a Civil War hero who died at the battle of Antietam in 1862, the Federal brick mansion has been the home of the Historical Society since 1959.
At the museum at General Mansfield House, visitors can explore the community's past through major exhibits, which showcase artifacts from the Historical Society's permanent collection. Recent exhibits have examined Middletown's 19th century women's clothing, varied immigrant groups; the rise and fall of manufacturing in Middlesex County; and death and dying from colonial times to the present. A permanent exhibit, Hard Tack, Salt Pork & Faith, movingly explores local soldiers' experiences in the Civil War through photographs, military gear, diaries and letters home.