Milwaukee County Historical Society Center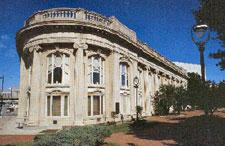 Home to the Historical Society, this elaborately detailed neoclassical revival structure was completed in 1913 after two years of construction for the Second Ward Savings Bank on the corner of West Kilbourn Avenue and North Third Street. An early financial institution, the bank was reorganized in 1866, eleven years after its incorporation. Among its board members were the famous brewers, Phillip Best, Valentine Blatz, and Joseph Schlitz which led to its moniker, the "Brewers' Bank." In addition to being a City of Milwaukee and Milwaukee County Landmark, the Milwaukee County Historical Center has also been listed on the prestigious National Register of Historic Places.
NOTE: The Historic Center is currently under renovation and is expected to reopen in May of 2009.