Monmouth County Historical Association Museum And Library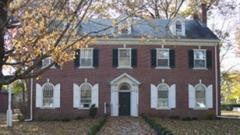 The Monmouth County Historical Association (MCHA) collects, preserves, and interprets its extensive museum, library, and archival collections that relate to Monmouth County's history and culture and makes these resources available to the widest possible audience.
Through its pursuit of these objectives, the Association enriches the quality of life in Monmouth County by preserving and passing on knowledge of its diverse heritage for future generations.
Since 1898, the Monmouth County Historical Association has collected over 30,000 objects relating to Monmouth County life. The collections span over three centuries of the lives of Monmouth County residents of virtually every social and economic background. Many of the objects are on view at the Association's four historic houses open to the public, and the Association incorporates many of its objects into its changing exhibitions.