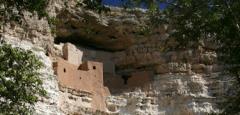 This 20 room high-rise apartment, nestled into a towering limestone cliff, tells a 1,000 year-old story of ingenuity and survival by the Sinagua people in an unforgiving desert landscape. Montezuma Well, a unit of Montezuma Castle, is located 11 miles from the park. Formed long ago by the collapse of a limestone cavern, over one million gallons of water a day flows continuously into the Well. This constant supply of warm, fresh water provides an aquatic habitat like no other in the world, and has served as an oasis for wildlife and humans for thousands of years.
A self-guided, 1/3-mile loop trail leads you past an incredible 5-story cliff dwelling, through a beautiful sycamore grove and along spring-fed Beaver Creek, one of only a few perennial streams in Arizona.
Ranger programs are offered daily (ask a park ranger for details when you arrive). Dogs, on leashes no longer than 6 feet) are welcome on the park's trails. Pet owners must clean up after their animals.