Museum Of Alaska Transportation & Industry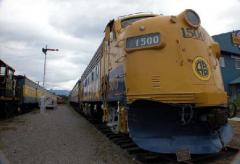 The Museum of Alaska Transportation and Industry is a private, non-profit corporation, governed by a volunteer board of directors. It is funded by museum admissions, gift shop sales, and donations from our members and friends. MATI moved to its present location in 1992. They now have over 20 acres. In addition to a large gallery, they have a train yard, rows and rows of outdoor artifacts, and an exhibit hall. Many of the artifacts in the museum were donated by individuals. Some are on loan to us from the military or other organizations.
MATI's mission is the collection, conservation, restoration, exhibition, and interpretation of artifacts relating to Alaska's transportation and industrial history. The museum is open year round, with people visiting from locations all over the world.