North Carolina Transportation Museum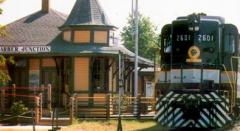 The N.C. Transportation Museum is located on the site of what was once Southern Railway Company's largest steam locomotive servicing facility. J.P. Morgan, Southern's owner, chose the site because of its location midway between the railroad's major terminal points of Washington, D.C., and Atlanta, GA. Construction of the Shops began in 1896, and they were named in honor of the first president of Southern Railway, Samuel Spencer.
During its peak, Spencer Shops employed nearly 3,000 people, which directly and indirectly provided most of the jobs for the towns of Spencer, East Spencer and other surrounding Rowan County communities.