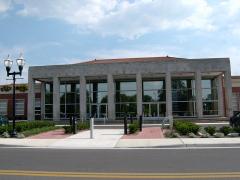 Opened in 2004, the O. Winston Link Museum honors the photography and the life of O. Winston Link, a prominent 20th-century photographer. While producing many photographs for marketing campaigns during his career, Link popularized railroad photography, and is best known for his photographic collection of the Norfolk & Western Railway line as it transitioned from steam-powered to diesel-powered locomotive engines. 
Link grew up in Brooklyn, New York, and graduated from the Polytechnic Institute of Brooklyn with a degree in civil engineering. After graduation, he turned to photography, and his mastery of black-and-white photography led to his success.
Appropriately, the former Norfolk & Western Railway station in downtown Roanoke houses the O. Winston Link Museum.