The Old Post Office Tower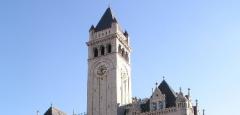 Its rustication, strong semi-circular arches, squat clustered columns united by a foliate Sullivanesque capital-frieze, make it the last major example of Richardsonian Romanesque architecture in the District of Columbia. Its 315 ft (96 m)-high clocktower makes the building the largest commercial building in Washington, D.C. and the third tallest structure in Washington DC. Scarcely used as a post office, it has been rehabilitated today into office and retail space shared by the federal government and private businesses. The expansive interior atrium is now home to shops, federal offices, entertainment space, and a food court.
National Park Service rangers from Pennsylvania Avenue National Historic Site provides tours of the Old Post Office Tower affording one of the most spectacular views of Washington from its 270-foot (82 m)-high observation deck. The tower includes an exhibit room depicting the building's long struggle for survival. Visitors can also view the Bells of Congress, replicas of those at Westminster Abbey and given by the Ditchley Foundation to the United States to celebrate the 1976 U.S. bicentennial. The official bells of the United States Congress, they are one of the largest sets of change ringing bells in North America.