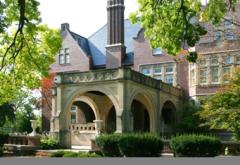 This museum tells the history of the Oshkosh and Winnebago region through exhibits that range from natural history to antiques.
The museum preserves the heritage of Oshkosh and the Lake Winnebago Region of Wisconsin. Through our web site, collections, and awesome exhibits, we invite you to explore the richness of our past and discover the great stories we have to tell.
A visit to the museum is a very enjoyable experience. Our 10,000 square feet of exhibits includes the fun Grandmas Attic and new hands-on log cabin. Tour the grand 1908 Edgar Sawyer home the famous Tiffany Studios of New York designed the interiors of this magnificent home. Visitors love the eight-foot-tall 1895 Apostles Clock, considered one of Wisconsins top ten attractions.