Palo Alto Battlefield National Historic Site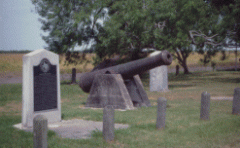 On May 8, 1846 troops of the United States and Mexico clashed on the prairie of Palo Alto. The battle was the first in a two-year long conflict that changed the map of North America. Palo Alto Battlefield National Historic Site preserves the site of this notable battle and provides an understanding of the causes, events, and consequences of the first war between independent Republics.
The park visitor center offers an orientation video and exhibits on the battle of Palo Alto and the U.S.-Mexican War. Visitors may also browse a book sales area of some 100 titles and obtain pamphlets about the park and related sites. The Park offers a ½ mile trail (1 mile round-trip) to an overlook of the battlefield, where visitor will find interpretive panels. Those who cannot walk this distance may use an accessible road which will allow them to enter the trail at a point closer to the overlook. The park offers a 15-minute video program entitled "War on the Rio Grande" at its interim visitor facility. This historical overview is available in English and Spanish. Other park activities occur on an irregular basis, primarily in the winter months.