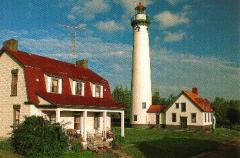 Presque Isle was named by the French during the fur trade era and means almost an island. The early explorers, traders, missionaries and settlers used this narrow peninsula to make a short portage between two natural bays on Lake Huron. Presque Isle harbor was an important natural harbor for fishing and commerce and was used by the many ships on the Lake for shelter and to load lumber. In 1840, a lighthouse (Old Presque Isle Lighthouse) was built at the harbor entrance as an aid to navigation. Thirty years later, in 1870, this lighthouse was replaced by a taller one (New Presque Isle Lighthouse) to provide better visibility for the ships. The 1870 Light Station was one mile to the north of the old light and contained a lighthouse 113 feet high with a third order Fresnel Lens and attached keeper's quarters. In 1890, a steam driven fog signal building was added as well as other out-buildings. This was a strategic location for navigation on the Lakes because it marked the turning point for ships headed towards the Straits of Mackinac or Lake Superior and the Sault locks. In a one year period (July 1, 1877 - June 30, 1878), the Keeper's Log records the passage of 8,942 vessels and steamers.
It was determined in 1904 that a second keeper was needed at the Presque Isle Light Station and the Keeper's House was built in 1905 for a cost of $5,000.00. The home served as the residence of the head keeper and family until 1939 when the U.S. Lighthouse Service was absorbed by the U.S. Coast Guard.
The Station was an active Coast Guard facility until 1970 when the light was automated. At that time, the grounds and buildings were leased to Presque Isle Township for a park and the Keeper's House was rented. In June of 1998, Presque Isle Township took possession of all the land and buildings of the site.
The Presque Isle Township Museum Society began the renovation of the 1905 Keeper's House. Volunteers have restored the home to its original look with furnishings of the 1905-1915 period. All woodwork, flooring and paint colors are original. The home is open as a museum to reflect living conditions of the local keepers and their families.