Rosson House Museum & Historic Heritage Square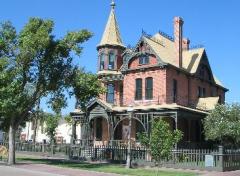 The mission: To preserve and interpret the Rosson House Museum through collections for the time period of 1895 through 1915 and to serve as stewards of Heritage Square.
Historic Heritage Square located inside Heritage & Science Park, is comprised of several beautifully restored turn of the 20th century homes (including the 1895 Rosson House) and buildings located on what was part of the original Phoenix town site during the late 1800s. Today, the park itself is part of Phoenix's downtown Copper Square.