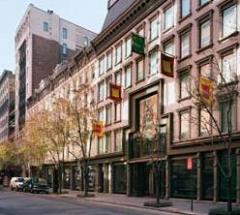 Through changing exhibitions and an array of engaging public programs, the Rubin Museum of Art offers opportunities to explore the artistic legacy of the Himalayan region and to appreciate its place in the context of world cultures.
The RMA collection consists of paintings, sculptures, and textiles. Although works of art range in date over two millennia, most reflect major periods and schools of Himalayan art from the 12th century onward.
The exhibitions are organized with particular care to assist viewers who are new to Himalayan art. Wall texts and interpretive panels supply aesthetic, social, and historical perspectives to both scholars and casual viewers. The ExploreArt Galleries on the 3rd and 5th floors (with a video alcove on the 6th floor) take the viewer behind the scenes, answering questions about why and for whom the art was made. Books, paintings, photographs, artifacts, and computer terminals accessing the museum's website and affiliated sites offer other examples of Himalayan and related art.