Silver Terrace Cemeteries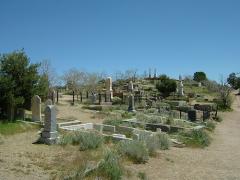 Beginning in the 1860s, a wide variety of fraternal, civic and religious groups established burial yards on the hillside including the Masons, Pacific Coast Pioneers, and Knights of Pythias.
The Silver Terrace Cemeteries are a series of terraces dramatically located on the steep, windswept hillside of Virginia City. As this booming mining camp became a more permanent settlement, the need arose to establish a cemetery. Nearly every plot is fenced or bordered, a typical practice of the Victorian period. The characteristic features of this burial place reflect the breadth of styles and designs popular during its long history.
Grave markers range in materials from wood to metal to cut stone. The inscriptions on the markers give silent testimony to the social and economic fabric of Virginia City. The majority date to before 1920. Very few of the adults buried in these cemeteries were born in Nevada. The birthplaces noted throughout the grounds provide a glimpse of the scope of immigration and the makeup of the settlement that supported the Comstock mining industry. The historic significance of the cemeteries enabled them to qualify for a Save America's Treasures grant through the National Park Service. Restoration is under way.