South Mountain State Park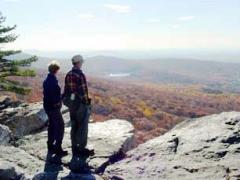 South Mountain, a ridge composed largely of resistant quartzite, posed a formidable obstacle to the early settlers until 1755 when General Edward Braddock and a young surveyor, George Washington, constructed a road over one of its passes. Greenbrier, Washington Monument and Gathland are neighboring state parks along South Mountain.
The Battle of South Mountain (which was actually two separate battles), broke out on September 14 in the Fox's Gap and Turner's Gap areas after Confederate gunners opened fire on Federal forces moving toward the base of the mountain. Confederate General Samuel Garland and Federal General Jesse Reno both received mortal wounds during the heavy fighting near Fox's Gap. Here too, future presidents Rutherford B. Hayes and William McKinley participated in the battle.
The fighting in these areas continued most of the day as charges and counter charges were made by both sides. By evening the ends of the Confederate line had been turned and were in danger of being flanked. Recognizing this, General Lee ordered his forces to withdraw during the night. After Crampton's Gap had been cleared of Confederate forces, Franklin ordered his troops into camp for the night. Had his attack not been delayed earlier in the day, he might have continued his pursuit of the Confederates into the valley beyond, driving a wedge between the two parts of Lee's divided and disorganized army, thereby allowing McClellan the opportunity to attack each section separately.
The result could have been an early end to the war, as McClellan's troops would likely have overwhelmed each half. However, the attack was not renewed and Harper's Ferry fell to the confederates on September 15.
Today, visitors can explore through this historic land while hiking, camping, or relaxing amongst these scenic grounds.