Steel Plant Museum & Lackawanna Library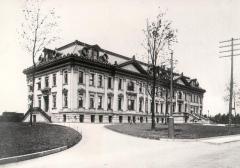 The museum also contains old city directories, microfilm of Lackawanna's local newspapers and the Victorian, a publication devoted to the memory of Father Nelson H. Baker. The children's room has a bright and colorful carousel motif.
On December of 1982, the Bethlehem Steel Corporation announced the shutdown of steelmaking at its Lackawanna, New York plant. The phasing out took almost a full year to complete and resulted in the loss of thousands of jobs and ended the hopes of many families to add another generation of steelworkers to their legacy. The last pig iron cast from Blast Furnace J on October 17th, 1983 and the last steel heat from BOF Vessel No 17 at approximately 10:30 the next morning, virtually ended all major steelmaking in the Western New York area.