Tennessee Agricultural Museum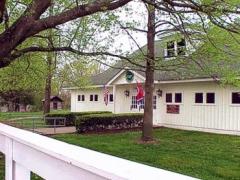 Chartered by the general assembly in 1957, the Tennessee Agricultural Museum is located at Ellington Agricultural Center in south Nashville. The museum is housed in a former horse barn which was once part of the Brentwood Hall estate of financier Rogers Caldwell. The artifacts date from the beginning of Tennessee agriculture to objects representing agricultural developments during the mid-twentieth century. The museum is also home to the Tennessee Agriculture Hall of Fame, the oldest such institution in the nation.
The museum has an extensive collection of home and farm artifacts from the 19th and early 20th centuries along with rural Tennessee prints. Textiles, a woodworking collection, buggies, wagons and large items like the McCormick reaper and Jumbo steam engine are exhibited in a renovated plantation barn. Log cabins, a small farm house, kitchen/herb garden, perennial garden and nature trail are also part of the museum tour.