Thomas Cole National Historic Site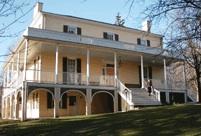 Nurtured by the Catskill Mountain region, artist Thomas Cole found a home at Cedar Grove.
The home, built in 1815, became the primary site where Thomas Cole began his artwork. Cole later created the Hudson River School of Art, which now leads a trail that is located on the historic property.



Today, only a few acres constitute the National Historic Site, but the modest, picturesque residential grounds reflect Thomas Cole's period, and are to be restored to their period condition. Importantly, the panoramic views to the Catskill Mountains and its great "Wall of Manitou," experienced daily by Cole, can still be enjoyed. The entry driveway coming from Spring Street can still be traced, and the adjacent flower garden blooms each summer with renewed care. Close by is the Federal-style privy, built to complement the house, and Thomas Cole's studio at the old store-house. These outbuildings have, or will soon be, fully restored. Beyond is the grove of old trees, the woodlot mentioned in Thomas Cole's writings. A stand of Cedar trees in the grove probably inspired the name Cedar Grove, and it is possible that Cole himself coined the term before 1830.



Restored by the Greene County Historical Society, the home was able to be rebuilt, and it reopened during the summer of 2001. A number of significant objects have been added to the Cole artifacts and artworks already in the society's collections. With its scenic attributes and authentic rural amenities, the Thomas Cole National Historic Site is a living memorial to the artistry of its famous resident and the world of romanticism in the Hudson River Valley.