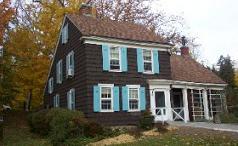 Several rooms are set up to reflect what life was like during the Revolutionary War and late 18th Century using original artifacts and reproductions. Other rooms reflect early 19th Century life, such as the upstairs bedchamber with its rope trundle bed, nightstand with candle, spectacles and bible, washstand, and young girl's cross-stitch sampler dated 1804. There also you will see some of our wonderful 19th Century quilts.
Other exhibits reflect the Huguenot settlement of New Rochelle such as the original 1689 deed to purchase 6,100 acres that became the city of New Rochelle, and a rare breech loading swivel-gun (a small cannon) used in defending the Huguenot city of La Rochelle during the 1628 siege in France.
Permanent and temporary displays feature artifacts and art reflecting our local history during the Civil War, the Black Experience, Women in History, the formation of services like police and fire, the People of the First Man—the Siwanoy Indians—and much more.