The Union Pacific Railroad Museum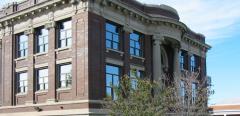 The Union Pacific Collection dates to the mid-1800's, featuring original editions of reports from survey teams that searched for the best land route to join the nation, east to west. Surveying equipment, early rail equipment, and artifacts from the construction of the nation's first transcontinental railroad tell the story of one of the world's construction marvels.
The museum features promotional materials that helped attract emigrants to the American West, along with a sampling of the precious possessions they brought with them. Visitors to the museum can trace the settlement of the West on an interactive map table that highlights the towns that grew along the railroad's route. The museum also features displays about the heyday of passenger travel and the rail industry's efforts to promote the nation's first national parks.
The story of the American rail industry is a living tale and the museum features exhibits on the past, present and future of America's largest railroad. The Union Pacific Railroad Museum takes visitors on a journey through 140 years of American history, from the 1800's to the 21st century. Innovations and technology in the modern rail business are featured, with displays on modern track laying equipment, the railroad's use of Global Positioning Satellite technology, and the nation's largest privately-owned communication network. Interactive exhibits help explain the role of Union Pacific in the nation's economy and the railroad industry's contribution to modern technology.