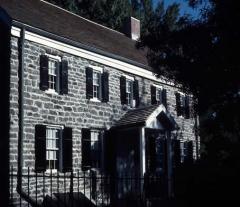 Blacksmith Isaac Valentine built this four-level fieldstone farmhouse in 1758 near the Boston Post Road. His property included a blacksmith shop, outhouses, farmland, and a number of slaves. His homestead was later the site of six skirmishes between American troops and British forces, who occupied the house for most of the Revolutionary War. After the Revolution, the Valentines fell on hard times and the Dutch Reformed Church seized the property. In 1791, the house passed into the hands of the Varian family. In 1905, William F. Beller purchased it.
In 1965, his son, William C. Beller, generously donated the historic house to The Society to be used as a museum.
In 1968, the restored house was opened to the public as the Museum of Bronx History. Visitors today can touch the fieldstones Isaac Valentine used to construct the house and walk on the oak and pine floorboards he fashioned. The main level contains three galleries that feature rich rotating bi-annual exhibitions, and a museum gift store. The upper levels are not open to the public.
The house stands in a quiet residential neighborhood at Bainbridge Avenue and 208th Street, just a few minutes walk from Montefiore Medical Center, The Society's Research Library and The Bronx County Archives buildings.