Virginia City And Nevada City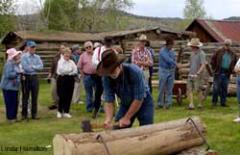 Virginia City is a living town of 150 year round residents who host the West's best preserved gold mining town from the 1860s. Visitors walk the same boardwalks that desperate Vigilantes once patrolled. Guests are transported to a time when rowdy miners mingled in saloons and restaurants with women of negotiable affection.
Ride the 1910 fully refurbished steam locomotive, the stagecoach, attend a live theater show, stay the night in homey historic lodging. Shop in unique gift and specialty shops. Enjoy fine dining and old-fashioned bakery and candy shop goods.
Nevada City, just 1.5 miles away has 14 historic buildings original to the site plus a collection of more than 100 other historic buildings saved from locations all over Montana. The town provides a great backdrop for Living History weekends available through the summer months. Visit the Nevada City Music Hall with a collection of historic music machines, gaviolis and player pianos--the largest music machine collection in the world open to the public.