Walter Anderson Museum Of Art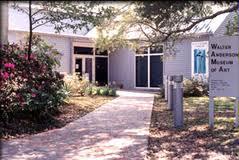 The museum, opened in 1991, is dedicated to the celebration of the works of artist Walter Inglis Anderson, and his brothers, Peter and James McConnell Anderson.
The watercolors, drawings, oils, block prints, ceramics, and carvings by the three Anderson brothers are all represented in the museum's permanent collection. Diverse changing exhibitions, many featuring the work of other significant artists, occur throughout the year.
The museum's sky lit interior of warm southern yellow pine includes a main galleria and two additional galleries, which echo the natural beauty and simplicity of its setting. Adjacent to the museum is the Ocean Springs Community Center, home of Walter Anderson's largest mural.