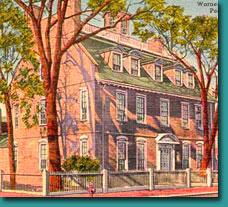 The dramatic wall murals in the hallway are the oldest colonial wall paintings still in place in America. Although it is not certain who painted the murals that Macpheadris commissioned shortly after the house was built, they depict scenes as varied as a Dutch woman spinning, a scene from the Bible, and two Indian Sachems visiting the Queen of England.
The Warner House is named for the Portsmouth merchant, Jonathan Warner, who married Mary Macpheadris in 1760. Jonathan outlived both Mary and daughter, Polly, whose portraits were painted by Joseph Blackburn in 1761 and hang in the house today.
The Warner House Association was formed in the 1930's. Many of the original artifacts and furniture have been returned by family members to the house.
Visitors to the house are in for a real treat as they step back in time and see Portsmouth history come alive by taking a guided tour that takes under an hour.