Washington National Cathedral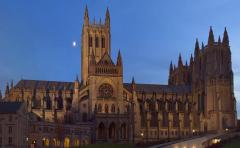 Since the first services were held in Bethlehem Chapel, Washington National Cathedral has opened its doors to people of all faiths as they have gathered to worship and pray, to mourn the passing of world leaders, and to confront the pressing moral and social issues of the day.
Its final design shows a mix of influences from the various Gothic architectural styles of the Middle Ages, identifiable in its pointed arches, flying buttresses, a variety of ceiling vaulting, stained-glass windows and carved decorations in stone, and by its three similar towers, two on the west front and one surmounting the crossing.
Washington National Cathedral has played host to many major events, showing the cathedral's proud distinction as being "the national house of prayer for all people."