Wentworth Coolidge Mansion Historic Site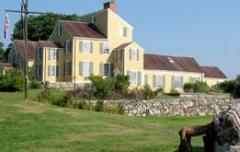 The Mansion reflects five distinct periods of architecture. The extraordinary skill of New Hampshire's eighteenth century craftsmen is exhibited in the intricate hand-carved mantelpiece. The council chamber and the spy closet reveal details about daily life and government during the colonial period. Purple lilacs, descendants of the first European stock imported by Wentworth, decorate the grounds. Its stateliness and impressive interior and furnishings reflect aristocratic life in Portsmouth in the 1700s.
Guests can visit the Coolidge Visitor Center, located on the grounds. The grounds and the Visitor Center are available to rent for events and meetings. Picnicking on the grounds is welcomed; however, pets are prohibited. Restrooms are available in the carriage house.