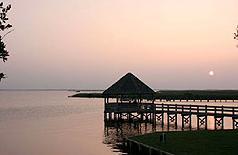 The sleepy village of Corolla on the Outer Banks of North Carolina began an unforeseen journey into the future in October, 1922. Northern Industrialist Edward Collings Knight, Jr. and his bride Marie Louise LeBel took up winter residency in their newly acquired Lighthouse Club and began construction of a 21,000 sq.ft. private residence. Its location on the Currituck Sound and the Atlantic Flyway perfectly satisfied the Knight's passion for waterfowl hunting. Three years and $385,000 later, Edward and Marie Louise moved into their "cottage" on the sound.
In 1940, the second owner, Ray T. Adams, renamed his new investment, The Whalehead Club, leasing it to the U.S. Coast Guard during World War II and entertaining guests and waterfowl enthusiasts when the war was over. The sequence of events that followed would weave a fascinating and intriguing history, including a school for boys, testing of solid rocket fuel for America's space program and the development of the original 4 1/2 miles of land. The 1970's and 1980's saw the first spurt of development on the Whalehead Club tract of land with different groups of developers taking ownership. In 1992, Currituck County purchased the badly deteriorated Whalehead Club in the interest of historic preservation.
Today, the Whalehead Club is an intricate part of Currituck Heritage Park. Situated on 39 acres of sound front property, the public is invited to tour this newly restored "jewel by the sea".