White Sands National Monument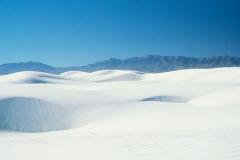 Rising from the heart of the Tularosa Basin is one of the world's great natural wonders - the glistening white sands of New Mexico. Here, great wave-like dunes of gypsum sand have engulfed 275 square miles of desert and created the world's largest gypsum dune field.
Formal recognition for the uniqueness of the white sands of southern New Mexico came on January 18, 1933, when President Herbert Hoover, acting under the authority of the "Antiquities Act of 1906", proclaimed and established a White Sands National Monument. The monument story, however, can be traced to the waning years of the 19th century and is linked to the nationwide growth of the "national park" idea that followed the establishment of Yellowstone National Park in 1872.
White Sands National Monument preserves a major portion of this unique dune field, along with the plants and animals that have successfully adapted to this constantly changing environment. An 8-mile scenic drive leads from the Visitor Center into the heart of the dunes., while 4 marked hiking trails traverse them.